1990. 5. 26 THE KOREA TIMES
Lee Depicts 'Eroticism in Barley Field'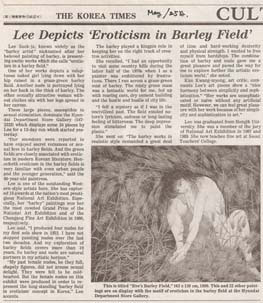 Lee Sook-ja, known widely as the "barley artist" nicknamed after her beloved Painting of barley, is presenting exotic works which she calls "eroticism in a barley field."
One of her works depicts a voluptuous naked girl lying down with her hip raised in a grass-green barley field. Another nude is portrayed lying on her back in the thick of barley. The other sexually attractive woman without clothes sits with her legs spread in her canvas. These large pieces, susceptible to sexua1 stimulation, dominate the Hyun-dai Department Store Gallery (547-2333) which displays some 24 pieces by Lee for a 13-day run which started yesterday. "Our ancestors were reported to have enjoyed secret romances or sexual love in barley fields. And the green fields are closely associated with eroticism in modern Korean literature. Henceforth eroticism in the barley fields is very familiar with even urban people and younger generation," said the48_years_ old painters. Lee is one of the outstanding Western-style artists here. She has captured 16 awards at the nation's most prestigious National Art Exhibition. Especially, her "barley" paintings won her the most coveted Grand Prize of the National Art Exhibition and of the Chungang Fine Art Exhibition in 1980, respectively. Lee said, "I produced four nudes for my first solo show in 1973. 1 has not stopped painting nudes over the last two decades. And my exploration of barley fields covers more than 10 years. So barley and natural partner in my artistic horizon." "My past female nudes, be they full, shapely figures, did not arouse sexual delight. They were felt to be cold-hearted. But the female nudes on this exhibit were produced in order to represent the long-standing 'barley field in eroticism' concept in Korea," Lee accents. The barley played a kingpin role in keeping her on the right track of creative activities. She recalled, "I had an opportunity to visit some country hills during the latter half of the 1970s when I as a painter was embittered by frustrations. There I ran across a grass-green mist of barley. The misty green mass was a fantastic world for me, fed up with roaring cars, dry cement building and the hustle and bustle of city life.
"I felt a mystery as if I was in the uncivilized past. The field exuded nature's lyricism. Sadness or long-lasting feeling of bitterness. The deep impression stimulated me to paint the plants." She went on: 'The barley works in realistic style demanded a great deal of time and hard-working dexterity and physical strength. I wanted to free myself from hardships. The combination of barley and nude gave me a great pleasure and paved the way for me to explore further the artistic eroticism world," she noted.
Kim Kwang-myong, art critic, comments Lee's art pieces show "nice harmony between simplicity and sophistication". "Her works are unsophisticated or naïve without any artificial motif. However, we can feel great pleasure with her work pleasure wither work because of her simplicity and sophistication in art." Lee was graduated from Hongik University. She was a member of the jury of National Art Exhibition in 1987 and 1989. She now teaches fine art at seoul Teacher's college.